Are you dreaming of a relaxing getaway near the picturesque Saltburn-by-the-Sea, nestled in the enchanting East Cleveland area? Look no further! Saltburn Holiday Lets now offers an incredible addition to its already exceptional services – an exclusive hot tub area! Enhance your holiday experience and unwind in the warm embrace of our brand new hot tub after a day of exploring the beautiful surroundings.
Brand new Hot Tub for Saltburn Holiday Lets 2023!
Your Home Away From Home
At Saltburn Holiday Lets, we take pride in providing a cozy and welcoming atmosphere for all our guests. Our holiday cottages are designed to offer a perfect blend of comfort and style, ensuring a memorable stay.
Exclusive Hot Tub Area
Newly added to our list of amenities is an exclusive hot tub area, where you can indulge in ultimate relaxation. After a day of sightseeing or outdoor activities, there's no better way to unwind than soaking in the warm bubbles of our luxurious hot tubs.
Benefits of our Hot Tub Area
Stress Relief and Relaxation
Immerse yourself in the soothing waters of our hot tubs, and feel the stress melt away. The gentle massage from the jets will ease tension in your muscles and leave you feeling refreshed.
Enhance Your Romantic Getaway
Planning a romantic escape? Our hot tub area offers the perfect ambiance for couples to enjoy intimate moments under the stars.
Health Benefits
Apart from relaxation, hot tubs have been known to offer several health benefits, such as improved blood circulation, reduced joint pain, and better sleep patterns.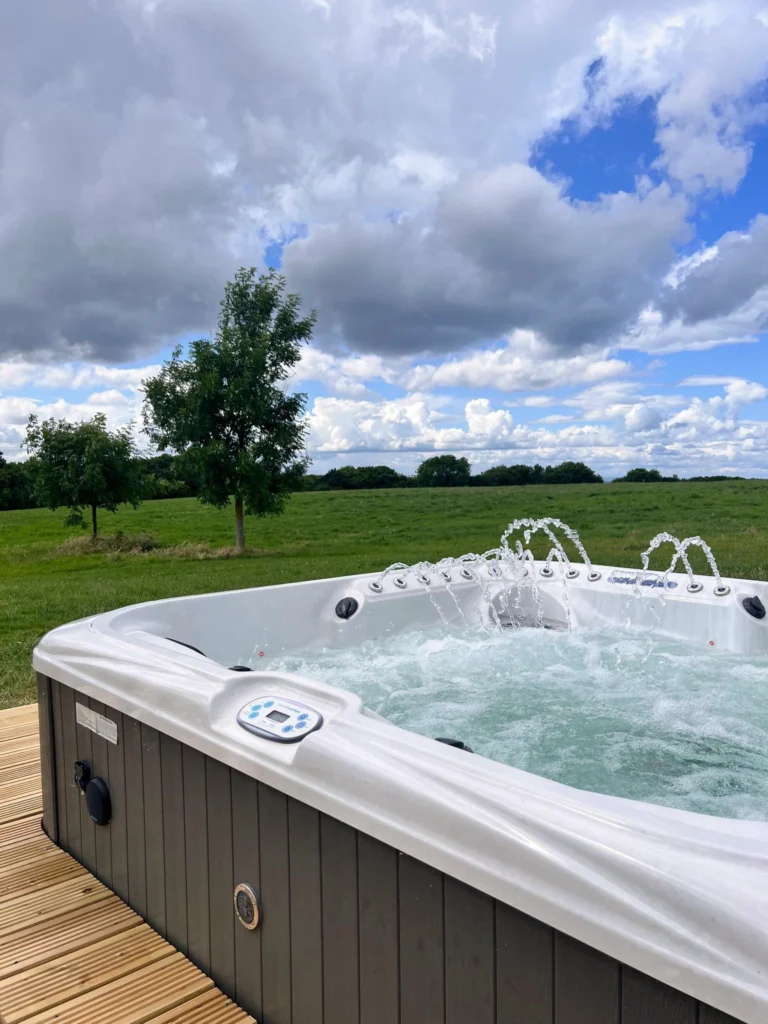 Booking Your Hot Tub Holiday on the North East Coast
Exclusive Access
When making your holiday booking with Saltburn Holiday Lets, don't forget to opt for the exclusive use of our hot tub area. Ensure a delightful and private experience during your stay.
Suitable for All Seasons
The beauty of our hot tub area lies in its year-round appeal. Whether it's a summer retreat or a winter escape, our hot tubs are ready to embrace you in warmth and comfort.
Captivating Activities in East Cleveland
Exploring the North York Moors
Nature enthusiasts will be thrilled by the nearby North York Moors National Park, offering extensive trails and breathtaking vistas.
Relaxing on the Beach
Enjoy the beautiful sandy beaches of Saltburn-by-the-Sea, where you can bask in the sun or enjoy a leisurely beach stroll.
Hurry and book your Hot Tub Holiday on the North East Coast
Saltburn Holiday Lets, located near the scenic Saltburn-by-the-Sea, welcomes you with open arms to experience a holiday like no other. Our brand new hot tub area adds an extra touch of luxury and relaxation to your stay. Don't miss the chance to unwind in style and explore the beauty of East Cleveland. Book your holiday now and get ready for an unforgettable experience.
FAQs
Q: Can I book the hot tub area for a specific time slot during my stay? A: Yes, you can book the hot tub area for exclusive use during your preferred time slot. Just let us know your preference when making the reservation.
Q: Are children allowed in the hot tub area? A: For safety reasons, children under the age of 16 must be accompanied by an adult while using the hot tubs.
Q: Can I use the hot tub area multiple times during my stay? A: Absolutely! When you book the hot tub area, you can enjoy its use multiple times throughout your holiday.
Q: Are the hot tubs cleaned and sanitized regularly? A: Yes, we take hygiene very seriously. Our hot tubs are cleaned and sanitized regularly to ensure a safe and enjoyable experience for all our guests.
Q: What is the maximum capacity of the hot tub area? A: Our hot tub area can comfortably accommodate up to six people, making it perfect for families and small groups of friends.